Restaurants and other businesses want to thank our veterans and active military members on Veterans Day with FREE or discounted food or services on November 11 (unless another date is noted). Some deals are available for veterans only, while others are valid for both veterans and active military personnel. Offers don't usually cover gratuity and tax. In addition, proof of military status is required for most offers, so be prepared to show ID verifying your service. As always, more deals will be added as they're announced, so make sure you check back. If you know of any deals we left out, please comment below. (Living on the Cheap will only include the deals we are able to independently verify.) And always make sure to check out the single deals listed in the Dining category of Living on the Cheap!
Participation may vary, so be sure to check with your local restaurant to confirm that they'll be offering the Veterans Day special.
Free food and drink
Applebee's : Every year on Veteran's Day, Applebee's serves a free meal to active duty and veteran military service members. Although the majority of Applebee's restaurants participate, call your local franchise and ask about details and requirements.
Bakers Square: Bakers Square gives military members a 10% discount throughout the year, but is currently raising money for The Folded Flag Foundation. Each guest who donates $5 on their dine-in check will receive a $5 voucher toward a future in-store purchase at the same participating restaurant. On November 11, Bakers Square will also offer a free meal to veterans and active duty service members with a valid ID.
BJ's Restaurants: On Sunday, November 11, all military members who dine-in restaurant receive a complimentary entree up to $14.95 plus a free Dr Pepper beverage by presenting a military ID or proof of service at any BJ's Restaurant & Brewhouse location nationwide.
Bob Evans Restaurants: On November 11, veterans and active duty military are eligible to receive a special free breakfast, lunch or dinner, including all eight of Bob Evans new Dinner Bell Plates. Guests must provide proof of service, such as a U.S. Uniformed Services (current or retired) Identification Card, a current Leave and Earnings Statement (LES), a Veterans' organization card (American Legion or VFW, for example), or wearing a military uniform on Veterans Day.
Bubba Gump Shrimp Co.: All military personnel including veterans and their families will receive 20% off their bill. Get more information here.
California Pizza Kitchen: This Veterans Day, enjoy a complimentary meal from the Veterans Day menu at all participating California Pizza Kitchen locations. Guests can choose from complimentary pizza, pasta or full size salad and beverage by showing proof of service. They will also receive a card for a BOGO free pizza, pasta, or salad redeemable from November 12 to November 20.
Carrabba's Italian Grill: From Friday, November 8 – Monday, November 11, firefighters, police officers, veterans and active military will receive a free order of Calamari with any purchase. You must present valid ID. Carraba's also offers a 10 percent discount to active military and veterans throughout the year. Visit Carrabbas.com to find a location near you.
Chili's Restaurants : Chili's founder, Norman Brinker, proudly served in the U.S. Navy. On November 11, Chili's offers a special menu for veterans to eat for free at the restaurant's many locations across the United States. Valid ID is required. Call your local Chili's for more information.
Chicken Salad Chick: Veterans or active service military will receive a free Chick Special and regular drink. The deal is valid for dine-in only on Monday, November 11.
Chill-N Nitrogen Ice Cream: Receive a free small ice-cream plus two mix-ins, free to any veteran on Monday, November 11.
Cotton Patch Cafe: Veterans and active duty receive a free Chicken Fried Steak or Chicken Fried Chicken on Veteran's Day, November 11.
Cracker Barrel: All military veterans will receive a free Pumpkin Pie Latte or a slice of Double Chocolate Fudge Coca-Cola® Cake on Veteran's Day, November 11. Dine in only. And from Oct. 28 through Nov. 11, you can receive $25 off all U.S. military branch-themed rocking chairs and 25 percent off all other military licensed products. Ten percent of the retail sales price of those eligible rocking chair purchases, either online or in-store, will be donated to Operation Homefront.
Denny's: Veterans can build a Grand Slam® breakfast on November 11, from 5 am to 12 pm. Active, non-active or retired military personnel must show a valid military ID. Dine-in only.
Dunkin Donuts: Veterans and active duty military are honored at participating Dunkin' restaurants nationwide with a free donut of their choice. No purchase necessary.
Erbert and Gerbert's: Download the app to get BOGO sandwich offer on National Sandwich Day, Sunday, November 3, 2019.
Freddy's Frozen Custard & Steakburgers: Freddy's honors veterans throughout the year, but any veteran who visits the restaurant on November 11 will receive a free combo meal card good through November 30, 2019.
Friendly's: All veterans will receive a thank you Big-Two-Do breakfast or All-American Burger on Veteran's Day. All former or active service members are eligible with a valid military ID or honorable discharge card.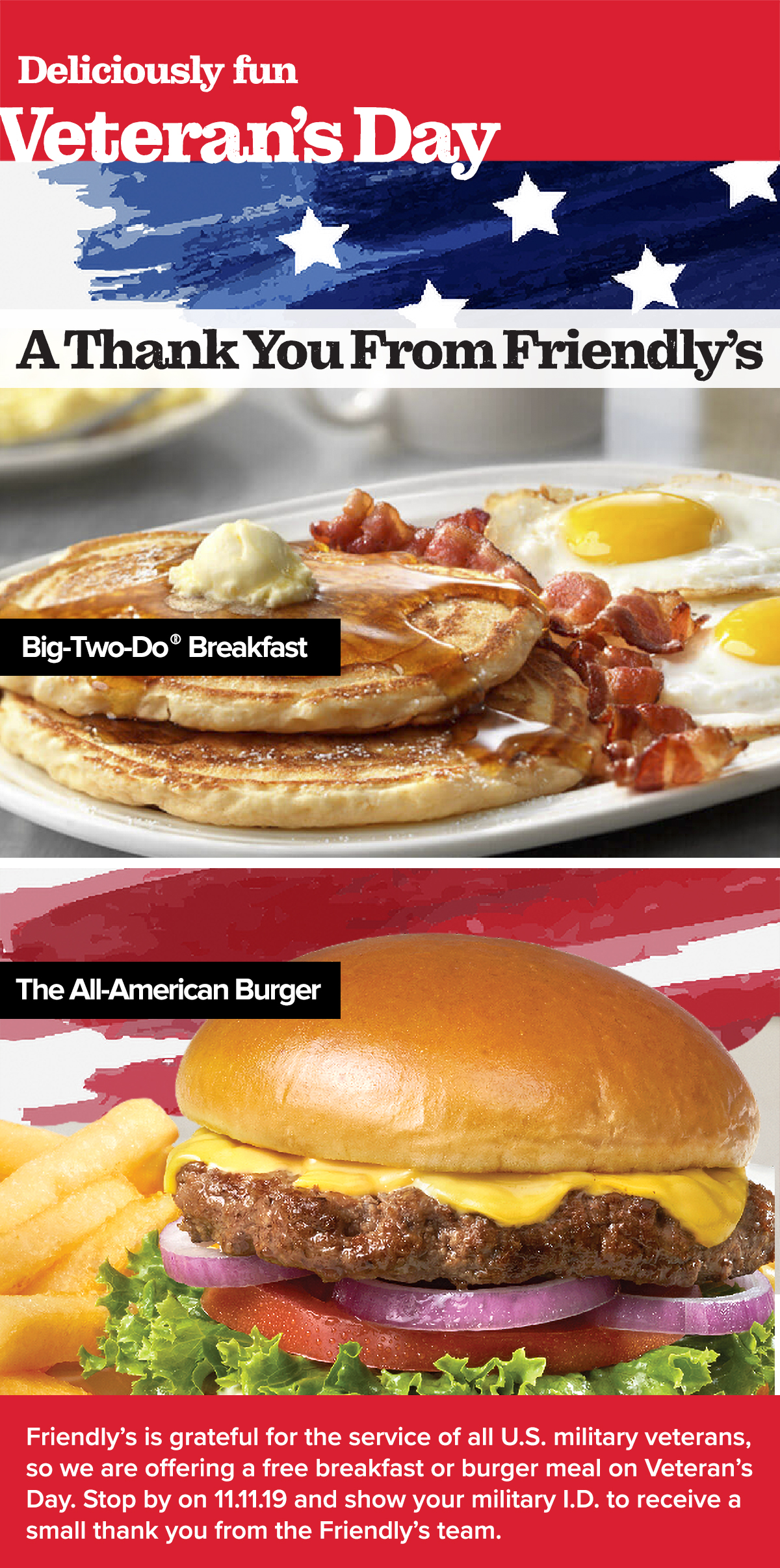 Golden Corral: On Monday, November 11, 2019, military veterans, retires and active duty personnel are invited to a free sit-in "thank you" dinner. The deal is from 5 pm to 9 pm, and is available at all Golden Corral restaurants nationwide. For more information, visit militaryappreciationnight.com.
Grub Burger Bar: Veterans and active military get a complimentary entree on November 11. Proof of duty required. Grub also provides an ongoing year round discount for veterans by offering a 10% percent off any purchase with a valid military I.D. or uniform.
Hamburger Stand: Wear your military uniform or show valid ID to receive a free meal and beverage on Veteran's Day, November 11. Limit of one free hamburger, regular fries, and small Pepsi per customer. Cheese is extra, and the offer cannot be combined with other discounts.
Houlihan's: Houlihan's Restaurants offers a year-round discount of 15 percent to active-duty military and veterans. But on Veteran's Day, they are eligible for a complimentary meal from the Veteran's Day Menu, which includes the Houlihan's Burger, Veggie Burger, Heartland Grilled Chicken Salad (grilled or fried), Fish and Chips, Brentwood Chicken Sandwich (grilled or fried), Southwest Grilled Chicken Wrap, Chicken Fettuccine Alfredo and a 5-oz. Petite Top Sirloin. The offer is good for dine-in only on Monday, November 11. Read more here.
Huddle House: Receive a FREE order of Sweet Cakes (any variety) if you are active duty, retired or a veteran by showing valid ID from November 8 to 11, 2019.
Little Caesar's: Veterans and active military can get a FREE lunch combo from 11:00 am to 2:00 pm on Veteran's Day. Present ID or proof of service, but no coupon is necessary for this offer. The lunch features four slices of Little Caesars Detroit-style DEEP!DEEP!™ Dish pizza, and a 20-ounce Pepsi product.
Logan's Roadhouse: All active duty and retired U.S. military personnel are invited to enjoy a free dine-in meal from of the American Roadhouse menu on Veterans Day. This offer is available from 3 pm to 6 pm at all participating Logan's Roadhouse restaurants nationwide. Beginning November 11 and continuing through the remainder of 2019, Logan's Roadhouse asks guests to roundup their check if they choose to benefit Folds of Honor, which provides educational scholarships to spouses and children of America's fallen and disabled service-members.
McAlister's Deli: Get free delivery with DoorDash on November 3 in honor of National Sandwich Day.
Menchies: Veterans and servicemen and women receive their first 6 ounces of frozen yogurt FREE on Veterans Day, Monday, November 11. You must present a valid military ID or proof of service at the time of purchase.
Pilot Flying J : All active-duty and retired military veterans are welcome to enjoy a free breakfast from November 8 to November 11. Guests will receive a free Pilot Coffee of any size with a choice of one free PJ Fresh® breakfast sandwich, breakfast pizza or a breakfast grill item. Veterans can redeem the offer at any of the 650+ participating Pilot and Flying J Travel Centers in the U.S. via the Pilot Flying J app.
Primanti Bros.: Active or retired military can receive a free Primanti Bros. Almost Famous sandwich Sunday, November 10 and Monday, November 11, at all participating Primanti Bros. locations.
Quiznos: This deal is not just for Veteran's Day, but since it runs through November we are including it here. Quiznos celebrates the multiplayer online role-playing game Guild Wars 2 with special reward codes available in-store. Guests will receive a card containing a unique code for in-game items in Guild Wars 2 with every order that includes at least one sub. The deal runs from November 1 through November 30, but only at participating restaurants while supplies last.
Red Lobster: All active duty military personnel receive a 10% discount on purchases every Monday. Red Lobster is also offering a free appetizer or dessert to veterans, active duty military and reservists on Monday, November 11. The offer is good for dine-in or to go orders picked up in the restaurant. Guests need to show a valid military ID or proof of service.
Rubio's: Military and veterans can enjoy one free adult entree, with the purchase of another adult entree. You must show military ID and show this coupon at any participating Rubio's location.
Shane's Rib Shake: Active and retired members of the Armed Forces will receive a free sandwich, regular side, and 20 ounce beverage. The offer is available November 11 through November 13. Guests must present military ID or proof of service.
Shoney's: Shoney's says thank you to veterans and troops with a FREE All You Care To Eat, Freshly Prepared BREAKFAST BAR on Monday November 11, 2019. The deal is offered from opening hour to 11 am.
Sizzler: Veterans can get a free meal at participating locations, selecting one of these meals: 6oz Tri-Tip Sirloin, single Malibu Chicken or (6) Jumbo Crispy Shrimp, plus a side dish and beverage (fountain drink, tea or coffee only). The deal is available from opening to 4 p.m. Dine-in only. Veterans must show ID. Gratuity is not included in the deal.

Smoothie King: On Veteran's Day, veterans and active military personnel can receive a free 20 oz. smoothie of their choice. You must show valid military ID.
Weinerschnitzel: Get a FREE chili, small fries, and small Pepsi when you present your military ID or wear your military uniform on November 11, 2019.
Ziggy's: Military veterans and active-duty military will receive one free 16 oz. drink per person this Veterans Day, with valid military ID or proof of service. Limit one discount per customer. Offer cannot be combined with any other special offers or discounts, and the offer does not include Red Bull Infusions.
Other Discounts & Freebies
Aquarium of the Pacific : Admission is free for active duty and veterans of the military on November 11. Valid ID must be shown at the ticket window.
B&Bs for Vets: Veterans are eligible for one free night at participating B&Bs in the US and Canada. The offer is good for one night on Sunday, November 10. Visit the link for lodging near you or your destination. You must book directly with the business, and valid ID is required.
Brides Across America: FREE wedding gowns for military brides.
Grace for Vets : Active duty or veteran military service members are entitled to a free car wash on November 11. Use the search tool to find a participating car wash near you. All veterans and service personnel get a free car wash at participating locations. Grace For Vets is a non-profit organization that unites the car wash industry in U.S., Canada, New Zealand, Australia with this program.
Great Clips: FREE haircuts for veterans and active duty military. If you are not military, pay for a service at Great Clips on Veteran's Day and you will get a special card to give a veteran for a free haircut.
Main Event: On Monday, November 11, all active-duty and retired U.S. military personnel will receive 30 minutes of game play that can be used on more than 100 interactive video games. They can also enjoy a free entrée from a special menu featuring Bacon & Cheddar Burger, Jumbo Wings & Fries Combo, 10¢¢ Ultimate Sausage & Pepperoni Pizza, Classic Cobb Salad, Crispy Chicken Tender Sandwich, and Chicken Tenders & Fries.
Meineke: Go to the locations page of the company website and click on the coupons tab.
Motel 6:Receive up to a 10 percent off rates at all locations – at any time of the year. Select "Military" as your Rate Type during the reservation process (before confirming your reservation). The special rate is valid only in the country that a guest serves (or served). You must present a valid military ID when you check in.
National Parks: FREE entry for everyone — even if you're not a veteran or active military member — at all its parks on Veteran's Day, November 11.
Seaworld: Military veterans and active duty military get free entrance into SeaWorld theme parks for free or at lower cost when they access the theme park website through Waves of Honor. You must get the tickets through the Waves of Honor site – this offer is not available at the gate.
Sport Clips: Participating Sport Clips locations will offer free haircuts to veterans and active-duty U.S. service members Monday, November 11, 2019. You must present with valid proof of service.
Target: Get a 10% military discount on in-store or Target online purchases from November 3 to November 11, 2019. Click here to get more information and to receive your discount coupon.